Making a difference – from Ireland to the World!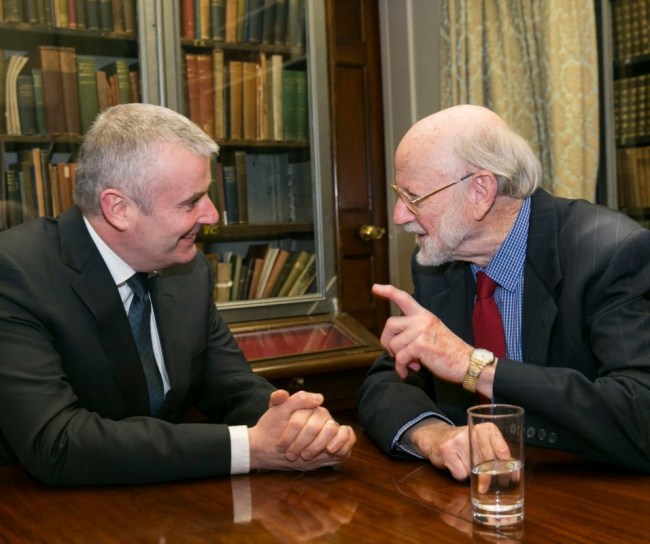 Professor William C. Campbell & River Blindness
Our Irish sites play a significant role in our global network and we impact patients both here and across the world on a daily basis.
One hugely impactful project where we brought our commitment to life was via our programme to eliminate river blindness which also has a very significant Irish connection.
For centuries, river blindness plagued remote communities in Africa, Latin America and Yemen, and there was no answer to this affliction. A number of serious infectious diseases are caused by parasites spread by insects. River blindness is caused by a tiny worm that can infect the cornea and cause blindness. Lymphatic filariasis, or elephantiasis, is also caused by a worm and produces chronic swelling.
In the 1970s, Professor William C. Campbell, a Donegal-born scientist, working with MSD, and Japanese microbiologist Satoshi Omura cultured bacteria, which produce substances that inhibit the growth of other microorganisms.
In 1978 Professor Campbell successfully purified a substance, which in a chemically modified form, proved effective against river blindness.
In 1987, MSD committed to donating this treatment - as much as needed for as long as needed - with the goal to help eliminate river blindness.
In 1998 MSD further expanded its commitment to include donating this treatment for use for another disease, lymphatic filariasis (LF) in African countries and Yemen where it co-exists with river blindness and in November 2017, the Program was expanded to reach up to an additional 100 million people per year through 2025 as part of the global effort to eliminate lymphatic filariasis (LF).
Thirty years since first commencing the results of the programme speak for themselves:
With more than 2 billion treatments having been donated to more than 146,000 communities in 29 countries in Africa, six countries in Latin America, and in Yemen.
River blindness transmission has been interrupted - meaning no new cases have been identified - in four of the six affected countries in Latin America and regions in five African countries.
The program reaches more than 250 million people annually and is the longest-running, disease-specific drug donation program of its kind.
In 2015, Professor Campbell and Satoshi Omura were jointly awarded the 2015 Nobel Prize in Physiology or Medicine for their discovery. Professor Campbell is the third Irish person to be awarded a Nobel Prize, after Ernest Walton (who was awarded the Nobel Prize in Physics in 1951) and Samuel Beckett for Literature in 1968.